Modulation of molecular and material properties by light poses a field of study with high potential
Photochemical consulting and development services
Modulation of molecular and material properties by light poses a field of study with high potential. This applies to basic and applied research alike. I offer the entire spectrum of photochemical consulting and development services and support you in realising your ideas.
The use of high-power LEDs allows the development of individually designed light sources serving a variety of applications. This site offers you information about me as a person as well as about the solutions I offer.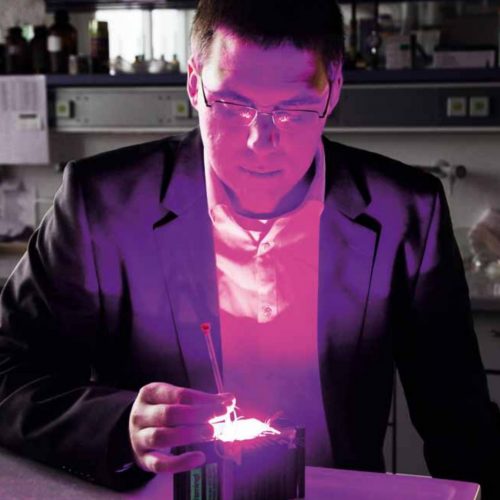 Let there be LED: unizeit reports about Sahlmann Photochemical Solutions
Light sources for contiuous photo-catalytical trasformation of CO2
Coordinated by the Fraunhofer ICT IMM and together with the University of Würzburg, Sahlmann Photochemical Solutions launches a national research collaboration for the development of a microreactor system for environment-friendly utilization of CO2 with the help of sunlight. The project is called CarbonCat and sponsored for a three year period with a total of 1.34 million euros. Sahlmann Photochemical Solutions will contribute the development of the light sources needed for the testing of new catalytic materials. The adjustment of the light sources during the implementation of the process in a continuous reactor system will be a key aspect of this work.
Full press release of the Fraunhofer ICT-IMM (german)show